Restore Masculine Contours with Male Liposuction
Even with conscientious attention to diet and a routine exercise regimen, men can develop stubborn fat deposits on their stomach, torso, chest, and back. While not intended for weight loss, male liposuction can remove these deposits, restoring more youthful masculine contours. Using modern techniques, including tumescent and power-assisted liposuction, Dr. Ramon Robles in Phoenix, AZ, can eliminate excess fat to help patients achieve a smoother, slimmer figure. As a board certified plastic surgeon, Dr. Robles has extensive experience performing successful liposuction procedures, and can evaluate your needs and goals to design a customized treatment plan.
Who Is a Candidate for Male Liposuction?
During your consultation, Dr. Robles, can perform a thorough examination as well as review your aesthetic goals and medical history. He can then determine whether liposuction is right for you. Candidates for liposuction should:
Be in good health and within 30 percent of their ideal body weight
Not have any life threatening illnesses
Not have conditions that can impair the healing process
Be nonsmokers
Have a positive outlook and realistic goals
Be willing to maintain results through diet and exercise
As we value patient education, we will take the time to inform you of your treatment options and ensure you feel confident in your decision.
As a board certified plastic surgeon, Dr. Robles has extensive experience performing successful liposuction procedures, and can evaluate your needs and goals to design a customized treatment plan.
Liposuction Techniques
At our practice, we can use two advanced liposuction techniques to help patients achieve their desired results.
Power Assisted Liposuction
During this procedure, Dr. Robles can insert a cannula, an instrument used to remove fat cells, through a small incision in the treatment area. Using rapid vibrations, the device can efficiently break down fat cells, before suctioning them out of the body. Because the cannula is mechanized, Dr. Robles can exert greater control for faster, more accurate results and more precise movements. This process is safer than traditional methods and less likely to damage surrounding tissue.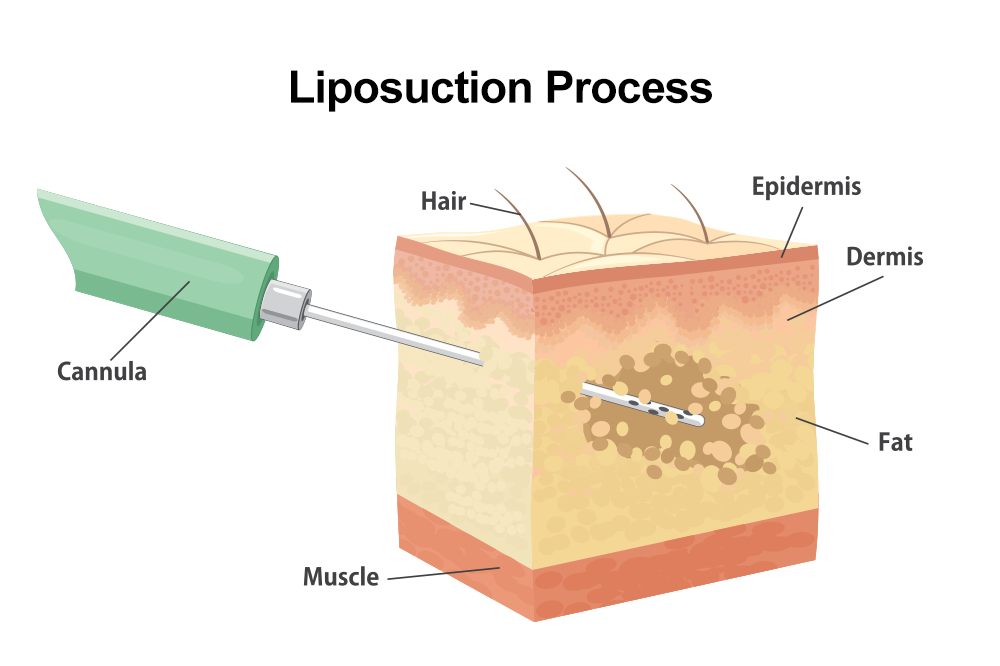 Tumescent Liposuction
This technique is recognized as the safest form of liposuction, and can be incorporated into a power-assisted surgical procedure. Using this method, we can inject a diluted solution of local anesthetic into the treatment area. This process helps to make the surgical area swollen and firm for smoother fat removal. The local anesthetic is so effective that in many cases, no additional sedation is necessary, eliminating the risks associated with general anesthesia. In addition, the solution restricts the blood vessels, greatly lowering the risk of surgical bleeding. For your comfort and convenience, you should experience less post-operative discomfort and swelling after the procedure, as well as an accelerated recovery time.
Planning Your Recovery
To help ensure a smooth recovery, Dr. Robles can provide you with detailed pre- and post-surgical at-home instructions. You may be required to adjust any medications you are currently taking and avoid taking medications or supplements that may increase bleeding. If you receive sedation during your procedure, you should schedule a friend or loved one to drive you to and from surgery and assist you during the first 24 hours.
The First Week after Surgery
It is common to experience some swelling, bruising, and soreness after surgery. However, Dr. Robles can insert special tubes to drain excess fluid and apply a compression garment to promote healing as well as reduce swelling. He can also provide you with a prescription pain medication to relieve discomfort. During your initial recovery, Dr. Robles will monitor your progress to ensure proper healing. He is available by phone 24 hours a day, seven days a week, to address any concerns you may have about your recovery process.
Returning to Normal Activities
While each case is different, most patients can return to work a few days after surgery. Over the next two weeks, you can expect to gradually return to normal activities. Most patients can participate in light exercise after three weeks, but should avoid any activity that causes discomfort. By the sixth week, you should begin to see the results of your procedure, with swelling completely eliminated by the end of month three.
Schedule Your Consultation
If you are ready to transform your appearance and restore more youthful contours, Dr. Robles can provide an effective solution. To learn more about male liposuction and whether this treatment is right for you, contact us online or call (602) 266-5100.